Bizjournals.com Writes about Studson!
March 20th, 2023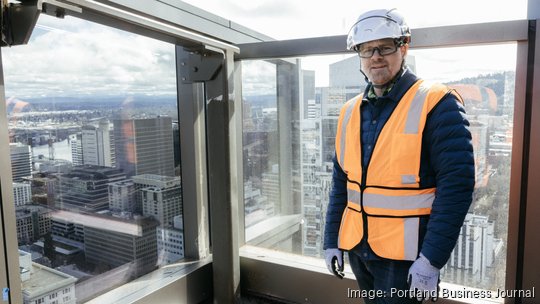 Sam Gehrke
---
Ryan Barnes' Lake Oswego company, called Studson, makes headwear to protect construction workers from brain injuries.
But don't call this product a hard hat.
"We strategically want to refer to it as a helmet," Barnes said. "There's a difference in technology."
That technology is not only designed to absorb impacts more effectively than traditional hard hats, but also to keep workers' heads cooler as they toil in the hot sun. It consists of a liner composed of thin, cylindrical polymer tubes that crumple on impact and allow for greater air flow.
"We went straight to the contractors to build rapport and relationships and get them samples, and the feedback out of the gate is wonderful — it fits better, it's cooler and guys can wear it all day long without taking it off even when they take a break, because they forget have it on," Barnes said.
The construction industry appears ready to embrace some innovation, after decades of stasis in hard hat design. Studson started shipping helmets in August 2021, pulling in $420,000 in revenue for the year. In 2022, sales grew to $4.2 million. This year, Barnes expects that figure to more than double to $8-10 million.
He hopes to grab an even bigger slice of the $895 million U.S. safety helmet market. Sales are expected to grow annually at 8.1% from 2022 to 2030, driven by more awareness and rules around worker safety, according to Grand View Research.
A ski accident and epiphany
Barnes background is not in construction, but in outdoor sports — downhill skiing, water skiing and cyclocross. Now 48, he grew up in Hillsboro and spent his youth skiing on Mt. Hood, before helmets were standard operating equipment on the slopes. During a training run at age 16, he tumbled headfirst into a tree at 40 miles an hour.
Barnes was taken down the mountain taped to a headboard and was thought to have lost sight in one eye. He fully recovered, but not without "many titanium plates" to reconstruct the right side of his face, according to his online bio.
After graduating from the University of Oregon, Barnes went on to spend 20 years working for ski companies. He most recently served as national sales manager for POC, a Swedish maker of high-end premium helmets for snow sports and cycling.
Then in 2019, a conversation with one of Portland-based Bremik Construction's founders set him on a new path. The exec asked Barnes if POC made industrial safety helmets. It did not.
"I looked online and there was nothing out there," Barnes said. "I was shocked. There was not much innovation or change in the hard hat in 100 years."
Barnes decided to start his own company and found a designer who had previously worked for Smith Optics, a ski and bike helmet maker. Barnes quit his job in March 2020 to focus on Studson, named for his two kids, Stella and Hudson.
With initial backing from a dozen investors, mostly connected in some way to the construction industry, Studson debuted at the World of Concrete trade show in June 2021. Since then, the startup has sold 42,000 helmets. Of the top 20 general contractors in the U.S., 14 have purchased the helmets, Barnes said. He expects to move between 60,000 and 70,000 this year.
Weighing a little over a pound, the helmets also come with a digital chip that stores the wearer's emergency medical information in the event of an accident. At a retail price of $140 on Studson's website, the helmets have also proven popular with arborists, Barnes said.
Protection and ventilation
Falls account for 68% of all work-related traumatic brain injuries in the construction industry, according to the Occupational Safety and Health Administration. Yet traditional hard hats, with their hard plastic shells and interior harness systems, are designed more for falling objects, which are responsible for just 12% of injuries.
"Typically, the danger is on the ground or scaffolding or step ladders," Barnes said.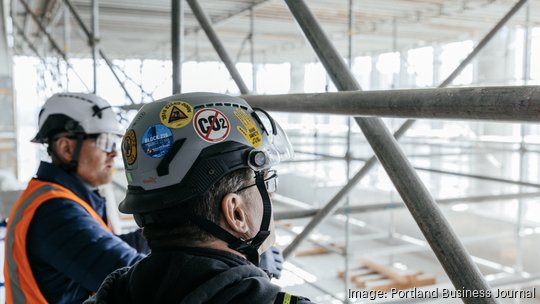 Sam Gehrke
Pat Hanlin, a Portland-based real estate investor who has an equity stake in Studson, felt that Barnes' background in cycling helmets could be an asset in the construction world, which was increasingly emphasizing worker safety.
"People were still wearing plastic helmets with plastic liners and no chin straps," Hanlin said. "Those plastic helmets offer almost no protection."
The Studson helmet shape is loosely modeled on a climbing helmet but with a bigger brim for sun protection and a drip edge in the back to keep the head dry in the rain.
But Studson's real selling point — unique in the North American industrial helmet market — is the Koroyd liner, which is designed to enhance both safety and cooling. The material, made in Germany, was discovered through aerospace research and is also used in some car bodies, as well as in headgear for action sports.
With its tubular structure that is 95% air, Koroyd crumples instantly on impact, absorbing energy efficiently. It compresses more than the expanded polystyrene, or EPS, foam used in some hard hats.
"Initially, the goal was to have the most innovative advanced helmet in the world," Barnes said. "We knew we could accomplish that, and Koroyd was the best choice for shock-absorbing material."
A national standards institute designates traditional hard hats as "Type I," indicating protection from impacts to the crown of the head. Studson helmets as Type II, meaning they mitigate impacts from all sides.
"There is a long-overdue shift towards helmets that provide Type II protection," said Michael Bottlang, director of R&D at WaveCel, LLC, a Wilsonville maker of cycling and industrial helmets.
He noted that while the leading hard hat manufacturers, including Bullard, MSA and 3M, have recently introduced climbing-style safety helmets, most are rated Type 1.
"A laudable exception is the Studson helmet," Bottlang said, adding that he has not evaluated how well Studson's product mitigates against rotational forces, which are the principal causes of brain injury.
Koroyd's other attribute is better air flow, Barnes said.
"Due to the tubular structure, it allowed for much better venting," he said. "Hot air can exhaust right out. Hard hats have dead air."
Looking ahead
Even with steadily increasing revenue, Barnes is debating whether to raise another funding round.
"We're cash flowing well, but the amount of inventory purchasing to accomplish this growth is a lot," Barnes said. "If we're going to disrupt the industry like we've been doing, we have to be armed with inventory when people finally make that decision."
Studson has only seven employees, but Barnes anticipates more sales hires in the coming months. He's also seriously considering bringing the manufacturing in house, or at least closer to headquarters than China.
"Now that we have really good traction and growth, we feel a bit vulnerable, not having more control," Barnes said. "Having complete control over the manufacturing and being U.S.-made is an important thing."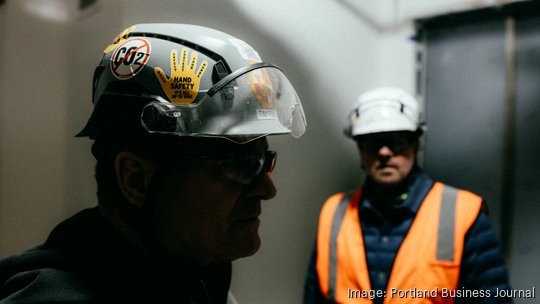 Sam Gehrke
His three-to-five-year plan is to reach $50 million in revenue. Studson is launching a new version of its helmet this summer, along with a line of cooling accessories for the head and neck designed to reduce heat stress, as well as T-shirts.
Hanlin not only invested in Studson, but also gave the company a seven-figure line of credit, which he said is almost paid off.
"There really was no security in either of those investments because what was I going to do with 30,000 helmets?" Hanlin said. "I thought we could grab market share quickly."
Barnes doesn't know of any specific instances where Studson helmets prevented serious injury, but he hopes it's just a matter of time.
"There will be a day when people send us a picture from their hospital beds and say, 'This helmet saved my life,'" he said. "One thing I'm proud of is that we entered the market at just the right time, and we've been instrumental in this movement from hard hats to helmets."